Did anyone love the Torkelsons as much as I did? I lived for the Disney reruns when they showed them years ago. They also had a spinoff type show called Almost Home. Here's what's everyone is up to now...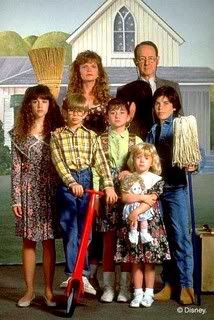 We'll start with my personal favorite, Lee Norris. He played little brother Chuckie Lee Torkelson. After the show, he was of course Minkus on Boy Meets World, and now he co-stars on One Tree Hill as Marvin "Mouth" McFadden. He also graduated from Wake Forest University in 2004. He'll be 26 this year.




Olivia Burnette played Dorothy Jane Torkelson, the big sister of the bunch. After the show she has appeared in many TV movies, and guest spots, like JAG, CSI: NY, and Navy NCIS. She was also in the movie The Quick and the Dead with Sharon Stone and Leonardo DiCaprio. She's married with a stepson. She's 30 years old.




Connie Ray played the mama, Millicent Torkelson. After the show, she played a lot of roles in many shows including Still Standing, Flags of our Fathers, and Thank You For Smoking. She's 51 and looks to be around for many more years to come.




Rachel Duncan played little sister Mary Sue Torkelson. After the show she was in such shows and movies as The King of Queens and What Women Want. I couldn't find a current picture, here is one when she was an older child, in What Women Want. She is now 22. (thanks to
starlitesamour for the more recent picture!)




Anna Slotky (circled in the pic) played middle sister Ruth Ann Torkelson. She was not in the spinoff series. She was in Home Alone 1 and 2. She was also on Sister, Sister, guest starred on 3rd Rock from the Sun and Step by Step. The last thing she did was the Fox show Get Real. No other information is available, including a current picture. She currently is a law student at UC Davis. (thanks to
fashionista523 for the current info and pic!)




Aaron Michael Metchik rocked a sweet mullet playing Steven Floyd Torkelson. He also was not in the spinoff series. After the show he was in such shows as Party of Five and The Practice, the latter being his last acting credit to date. He is 27 years old.




William Schallert played Wesley "Boarder" Hodges. He lived in the basement to help pay the rent. He was not in the spinoff. He is a veteran actor who was in many movies and television shows before and after the show, the most current being My Name is Earl and How I Met Your Mother. He is now 85. The before pic is not from the show, I just thought he was foxy. The after is not a current, but he pretty much looks the same (or so I'd imagine he would.)




From Almost Home...

Perry King played the father Brian Morgan on Almost Home. He has many credits to his name before and after the show including The Day After Tomorrow and Spin City. More recently his was in Brothers and Sisters. He is now 59.




Jason Marsden played brother Gregory Morgan. After the show he was of course on Step by Step. It now appears that he does a lot of voiceover work for shows like Fairly Oddparents, and The Replacements. He is now 32.




And last but not least, who could forget Brittany Murphy as Molly Morgan. After the show she was of course in Clueless and lots of other movies including Uptown Girls, 8 Mile and Don't Say a Word. She was recently married. She is now 29.