Maybe I'm just old, but the best time ever for MTV was the early to mid 90s. With shows like The State, Beavis and Butt-Head, the best Real World season EVER (San Francisco), and hell, even tons of music videos, it was a huge part of my middle school and high school life.
So I was wondering whatever happened to our favorite MTV VJs and newspeople?
Bill Bellamy, MTV Jams! and Kennedy (Alternative Nation):
Then:
Now:
He's appeared in many movies since MTV and also tours as a stand-up comedian. I know he performed at my school a couple years ago but I wasn't able to go.
Kennedy appears on Best Week Ever and Hollywood Squares. She just gave birth to a daughter in 2005.
Downtown Julie Brown, Club MTV:
Then:
(removed)
Now:
She posted in Playboy after leaving MTV and she was on
I'm A Celebrity, Get Me Out of Here
a couple years ago.
Jesse Camp:
Then
He won the "So You Want to be a VJ" contest in 1998, and everyone either absolutely loved him or hated him. I hated him. He also released an entirely forgettable album shortly after winning. The teenagers today will probably find him attractive.
Now:
I can't find any pictures more recent than 1998, probably because he fell off the face of the earth.
Dave Holmes (Say What?! Karaoke, among others):
Then:
He placed runner-up in the VJ contest that Jesse ended up winning. But in the end, Dave ended up staying at MTV a lot longer.
Now:
Appeared on Reno 911, and hosted a reality show called
Fire Me Please!
on CBS. I haven't heard of it either.
Matt Pinfield (120 Minutes):
Then:
Now:
He looks exactly the same. He's got a show on Sirius radio now.
Adam Curry:
Then:
Now:
He has a
blog
, and was a big influence on the creation of podcasts, believe it or not. Also has a show on Sirius radio.
Carson Daly (TRL):
Then:
Now:
He's still lingering on with Last Call with Carson Daly, which you probably haven't seen at 1:35 AM.
Karen Duffy (a.k.a. Duff)
Then: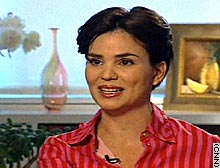 Now:
Host of Random Acts of Duff on TLC. Diagnosed with MS, she is also an MS advocate.
Daisy Fuentes:
Then:
Now:
She still models, and does hair product commercials
Ananda Lewis (in the middle):
Then:
Now:
She's a correspondent on
The Insider
.
Rikki Rachtman (the original Headbangers Ball):
Then:
I couldn't find any pics.
Now:
Hosts a radio show.
Simon Rex:
Then:
He was around for a little bit, then it was discovered that he starred in male erotic films.
Now:
Most recently appeared in Scary Movie 3.
John Sencio:
Then:
Now:
This was the guy that inspired me to do this post. I saw him hosting HGTV's Cash in the Attic the other night and really made me want to see what everybody else was up to.
Pauly Shore (Totally Pauly)
Then:
Now:
Does stand up, and was the subject of the TBS reality show Minding the Store.
Tabitha Soren (MTV News):
Then:
Now:
Couldn't find any recent pics. She's married with two children, though.
Serena Altschul (MTV News):
Then:
Now:
Correspondent for CBS News.